how, when, where and with what?
travel & video
The best techniques for traveling, filming and photographing your expeditions
Let's start!
Travel, film, photograph

Traveling is nowadays one of the most beautiful exclusives in the world.
If you travel to take photos or videos of landscapes, wild animals, landscapes or streets, you are a travel photographer or videographer.
Being able to bring back scenes captured while traveling is the best way to share your vision of the world. Going to different sites, observing the world through your lens and telling stories with photography and video.
Find a place, a destination

First of all, no need to want to go to the other side of the world. Everything can start in your garden, your city and your country. The best way is to start with small weekends nearby in order to improve and test the different techniques and equipment.
By planning your getaway in advance, you will save time and have the opportunity to create more qualitative content. Traveling has become so easy these days with access to the internet, maps, reviews from other travellers. All the information you need is there. Check the weather forecast, plan access and walking hours and you're done.
What equipment to take?

Let's get down to business. It's time to pack your bags. Make a list so you don't forget anything when packing your bag. Don't forget to take spare batteries, extra memory cards, cables and chargers, powerbanks etc…
Warning! The most complicated aspect is to find the balance between what you really need and what you imagine. You will discover it very quickly but the bag quickly becomes heavy, too heavy and can spoil the pleasure of a trip if it is not appropriate.
It is really important to favor light and compact equipment. Equally important, it is essential to have a plan b in case of hardware failure (second camera, second battery, second memory card, etc.).
Being able to choose the best moment.

As you plan, consider when the best times of day will be to take your photos and videos. You have to know how to take advantage of the light, especially that of sunrise and sunset. It is also necessary to think about when the place or subject will be the least frequented by other people.
Always be ready to shoot beautiful, spontaneous photos and videos. Being in the right place, at the right time and with the right equipment takes experience but also luck and remember, no matter where, something will always happen.
Be flexible, versatile and accept the unexpected.

When traveling, nothing is predictable. Although you can plan all the elements of your adventure to the millimeter, an unexpected event will always be part of it. Do not be discouraged, the weather is capricious and being stuck in the fog for many hours to finally be able to take the perfect shot is part of the adventure.
Remember to always have a plan B, C in order to always have a solution in the event of the unexpected.
Create and tell your story.

Each person, each trip has its own story. Clearly define the message you want to tell through your adventures. Try to imagine what your content will reflect once it is published and adapt it in your own way.
Do not be afraid to reproduce an already existing idea because the most beautiful places on earth have already been filmed and photographed thousands of times. This is where your personal touch and vision comes in. Tell your own vision of the place.
Basic equipment to take on a trip
The bag
Opt for a practical bag, in easily transportable hand luggage format to keep your equipment always with you. Choose a reinforced bag to best protect what it contains. Be methodical and define specific locations for each accessory.
The box
Clearly define which photo and video box you will need. Remember to provide a backup in case of failure.
Goals
Only you can judge how many you will need. But think about the fact that you are going to visit, so don't bother too much! For our part, we very often carry a wide angle lens (12-24mm), a 24-70mm lens and a 70-200mm which will meet most of our needs.
The batteries
Battery life often varies with the type of climate you will encounter and how you will use it. If you think your device is energy efficient and can last a day, don't burden yourself with too many extra batteries, 1-2 more will suffice: you will simply recharge in the evening. The best thing is still to travel with powerbanks in order to be able to supply or recharge your equipment at any time.
memory cards
Memory cards follow the same logic as batteries. Prevention is therefore better than cure and take several memory cards in case one of the two is filled or stops working.
An external hard drive
To be sure not to lose your media, copy them every night to your computer and your external hard drive. In this way you can delete the contents of your memory card to free up space without fear.
Chargers
Above all, don't forget your device, smartphone, tablet, computer chargers… The list is long, but without your charger you will quickly find yourself helpless! Also consider AC adapters for international outlets.
More material for more beautiful content
If you don't mind taking on a little more and you really want to make sublime content, you can save some room for:
action camera
Drone
Light
A small tripod
Telephoto
etc…
Finally it is hardly possible to travel light when you are a lover of beautiful images while traveling. It is therefore better to resign yourself either to paying for some excess baggage or to imposing the strict minimum levels of clothing!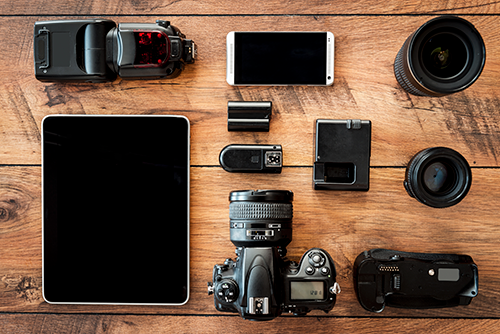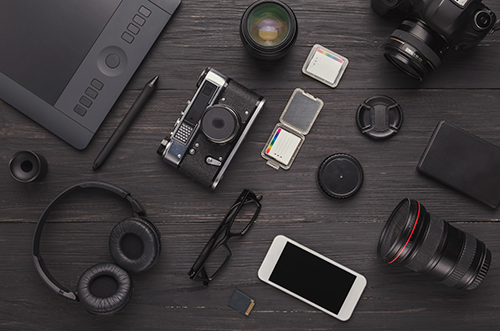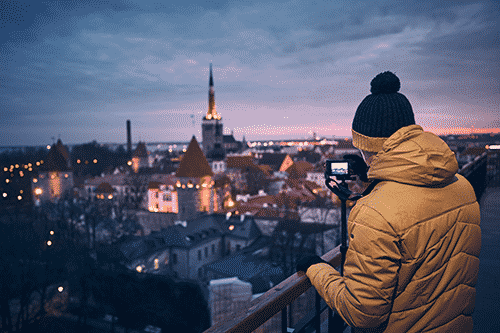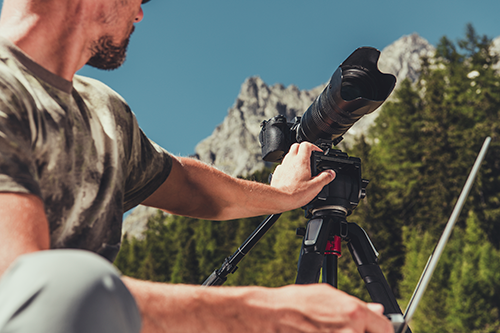 TANZANIA, KILIMANJARO: 3 Weeks of filming on Kilimanjaro to immortalize the women's world record attempt on the ascent.
NEPAL, HUMANITARIAN: 3 Weeks of filming in the poorest villages of Nepal in order to provide aid (food, clothing, etc…).
FAROES ISLAND: 2 weeks of filming across the Faroe Islands for the production of a tourism video.
SRI LANKA: 2 weeks of filming in Sri Lanka for the production of a tourist video.
LAPONIA: 9 days of filming in bikepacking for a personal project.
GREECE: 2 weeks of filming around Mount Olympus to film the women's world record for ascent.
SPAIN: 3 weeks of filming for the production of a promotional video for a travel agency.
PORTUGAL: 1 week of filming for the production of a promotional video for a surf camp.
EUROPE: Italy, Germany, France, Liechtenstein, Croatia, Slovenia, England, Czech Republic, Belgium are all destinations where we had the opportunity to work and film.